It's the first week of the One Room Challenge and you get to find out what Project Shut The Front Door is all about.
First, what is the One Room Challenge? The One Room Challenge is a bi-annual event hosted by Calling it Home  showcasing 20 featured participants and many guest participants as they renovate a single room, documenting all of it over the course of six weeks. In it's fourteenth season, the One Room Challenge kindly shares all of the blog entries and the finished spaces at the end of the 6 weeks. Many of the entries end up being featured in places like these:
And this season, look who's going to be the official media partner..
They are going to select two of the Guest Participants to be Featured Participants in the Spring ORC, which comes with the benefits of some sponsorships from some pretty cool companies. Of course, we are also allowed to find our own sponsors, and for the sake of the budget I'm trying to secure a few of my own. (Hint: if you want to help out, let me know!)
OK, NOW YOU GET THE IDEA.
This is kind of a big deal. It's truly going to be a challenge to transform a room in 6 weeks, considering I only just decided to do this a couple of weeks ago. Many of the participants do a room in their own house, with their own money and freedom of making the choices for themselves. Unfortunately I sold my house and I'm in a transition at the moment so that wasn't an option for me. Still wanting to join the fun, I put out feelers to see if anyone would be a willing client for this. I got a lot of responses, from bedrooms to laundry rooms to dining rooms to bathrooms and powder rooms to family rooms. I was overwhelmed by the responses and I think several of them could be awesome features for the Spring 2019 ORC, as well as just fun projects to do before I move out of state. Which means there's more to come in the future!
So… which one did I select?
PROJECT SHUT THE FRONT DOOR
It wasn't easy to decide but I ended up choosing a foyer. Just hearing "foyer" might lead one to believe that it sounds easy enough, but it's not just any old foyer. It's an odd duck of a room in a multi-level home.
It's large for a foyer, basically a 12′ square. "Basically" because, as usual, nothing is ever perfectly square and this is about 5″ longer on one side. Besides the shape being just slightly off, so are a lot of other things. Look how the front door is off center, and the doorway into the dining room is off center. There's also a "window" in the to the dining room that is off center, and the doorway into the kitchen is off center… UGH! The poor homeowner has tried over and over again to make this room work, and dubbed it the FOYER FROM HELL.
The latest incarnation kind of feels like a waiting room, doesn't it? Maybe with a sliding glass door in that opening on the right, and it could be a doctor's office. And can we talk about that thermostat? Or let's not. You can see the issue already, I assume.
WHAT WAS I THINKING?
Why did I pick such a wonky room? I had many options to choose from. A boy's bedroom could've been quite fun to do. A powder room is small enough to bang out in 6 weeks (yeah right). I might be a little crazy for picking this one. And is the word WONKY ok to use? I seem to be using it a lot and people keep laughing at me.
I chose it because of the spirit of the word CHALLENGE. It will be a challenge, but like all things, the best rewards come from the hardest efforts, don't they? I thought that I could do something in here that would make it look so different. I'm hoping to make it something the homeowners and their guests will smile at every time they open the front door. I also don't know why I gave my One Room Challenge the hashtag #projectshutthefrontdoor since really, everyone is going to want to open that door to see the transformation (I hope).
WHAT AM I PLANNING?
I am starting with a clean slate, all of the stuff in the above pictures is out of the room.
Ideally it would have been great to turn that window and small doorway into the dining room into a set of french or pocket (or french pocket!) doors, centered in the wall.
Or take the entire wall out and put in steel and glass.
Before contacting me for the challenge, the homeowner has just redone the hardwood floors. There's also a bunch of other stuff, like a soffit filled with ductwork on the top of the dining room side of that wall, as well as a vent right in the middle down by the floor. And this floor is on a slab and the dining room side is not level with it. We would have to do so much extra work and spend a lot of extra money. Besides the timing of the challenge, it just wasn't financially feasible. I will have to make the best of the situation… a CHALLENGE!
My plan is to create a focal point when you walk in the front door. I plan to make the space feel cozier and have some character. Even though several rooms branch off from this spot, I want this room to be more than just a pass through. It also has to be kid and pet friendly.
I wanted to push things into the center, and change the traffic pattern a little bit. Adding something round in the middle of the room seemed like a great idea.
I wanted something like that but this is hard to pull off with our budget. I'm afraid our would be more like this: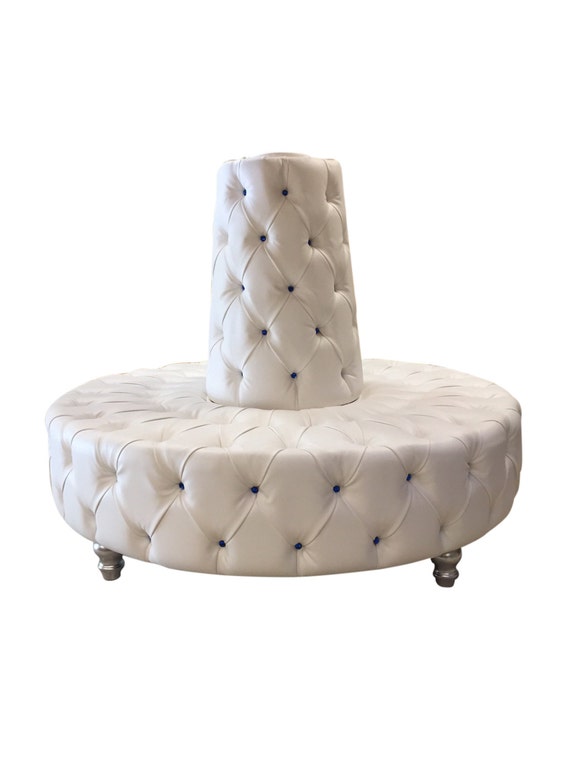 I decided our funds need to be spent more wisely.
So here are a few new things I plan to bring into this room:
rugs

wallpaper and paint

lighting

table

a place to sit

storage

art and decorative objects
Even though I want to give this room more personality, I can't go too far since it still has to blend or complement the other rooms that are visible from here, which are all very neutral… FOR NOW.
(**evil laughter and rubbing hands together**)
I am so freaking nervous/excited to do this. Since many of the other participants do their own homes, they don't have to deal with apprehensive or indecisive clients. I chose this client because she swears she trusts me and will let me do whatever I want, but there's a chance she might freak out since I'm keeping her in the dark for a lot of it. It's a little trickier than what some of the other bloggers are doing.
STAY TUNED!
Next week, I will share how I make the best of that window wall among other things. I am praying that the long overdue wallpaper samples arrive before next week and I can show you the options. Honestly, I feel like I'm already behind schedule!
You can follow the hashtag on instagram for some sneak peeks along the way, and I'm going to try to post instastories about my One Room Challenge for you as well, if you dare or care to watch, so be sure to follow me on Instagram. Maybe tell your friends to come to my blog and follow along too. The more the merrier!
DID YOU JUST LOOK AT YOUR OWN FOYER?
Thinking about your own foyer right now? Maybe you'd like to take a look at some fabulous mirrors, there's something for everyone! Click on the mirrors below to get more details.
K, byeee.