WEEK TWO ALREADY??
Well, here we are, only 4 weeks to go in the One Room Challenge: Project Shut The Front Door. AHGHGH. If you missed last week's post, you can catch up on all of it HERE.
You can also check out all of last week's One Room Challenge participants. So many great things happening this season.
It's pretty cool that Better Homes and Gardens is going to select a couple of us Guest Participants to be featured next season, don't you think?
Before we get started, those are my client's dogs. Aren't they the cutest? They look THRILLED about this makeover.
OK, ready to dive into Week Two of Project Shut The Front Door with me? Here's where I left you last week. We have to make the best of this wall that is in between the foyer and the dining room.

I ran through options with the client:
french doors (like in Week One's post)

eliminating the small doorway and the window and add a single, large doorway

closing up the window

just leaving it and working around it
After we talked it through, we were going with the last (and my least favorite) option. Imagine my surprise when she texted me after thinking about it overnight? She said, "let's do it, let's close up the window". YESSS. It's not the favorite option, but it will give us enough of an improvement for not too much of a financial investment. I think the client's family will still like it.
I know, I know, everyone loves "open concept" everything, why am I closing it up? The dining room isn't a favorite place in this house, and we don't need a pass through window into the foyer. If it were into a kitchen, it might make more sense, but that's not what we are working with here. If I started before the floors were done, I might have had more options.
ANYWAYYYYY…
I wasted no time (because there's no time to waste) and got someone in there ASAP to do the work of closing it up.

I don't think I have OCD but these wonky openings into the dining room mess with my brain.
Of course, now we have to paint the dining room side, which wasn't part of the plan! The snowball is starting…
And, just like on those shows you all love to watch that fool you all into thinking things get done in one hour, TA-DA! Here's our Project Shut The Front Door instant makeover!
I recommended that we at least frame the doorway, since all the other openings in the room are trimmed out. Even though it's not painted here, doesn't it already look better?
NOW WHAT?
Well, we have to cover up that patched sheetrock, don't we? Paint selections can make a world of difference.
We will probably just paint the dining room side for now, but for the #projectshutthefrontdoor side we can do a little better. We are going to install some wallpaper! Remember from Week One when I said I have to keep my plan connected to the other rooms that are all pretty neutral? But that I wanted to have a little personality? Don't you agree that wallpaper would work better than flat paint?
I searched for a fairly good sized pattern but wanted to keep the colors on the softer side. I wanted what I call a "relaxed graphic" look, not sharp horizontal or vertical lines. Does that make sense? No floral because I wanted to balance out the masculine and feminine pieces of the puzzle (not that I don't love florals, check out floral wallpaper I used HERE).
I also wanted to use a pattern I haven't really seen too much, since the internet is overloaded with a lot of repetition. I could go on and on about how people can be like sheep and just copy Pinterest, but a good designer will create a space uniquely yours that will outlast a trend (hello, shiplap in places that wouldn't naturally have shiplap, I'm talking about you). And of course, it has to fit into the budget. There are so many beautiful papers out there to choose from but I narrowed it down to three patterns, in almost all the colors they come in.
While I'm staring at this I realize that the wallpapers might seem kind of boring all by themselves. Which is why I don't usually show clients just ONE THING. But I don't want to show all of YOU everything yet… dun dun DUHHH! Try saying those last three "words" out loud using for each part: medium, low, and then high pitch and I think it makes sense. Did you do it? I'm losing my mind, I know.
WHAT'S NEXT?
After sweating out delayed wallpaper sample deliveries (damn you, Hurricane Florence!), I did pick one of the above and I ordered it this week. Once the wallpaper arrives, Project Shut The Front Door will be moving full steam ahead. It kind of has to, since we will only have 3 weeks left! OMG. Why do I stress myself out like that? Come back next week to see which wallpaper we chose AND the reveal of some of the other things I have selected for the room! Next week will have a lot of goodies. I hope. Because after the contractor was done closing up that wall, we have done NOTHING all week. Not stressed. Not stressed. Not stressed…
Ha! It's so bad that I am including the video I made this week (to share elsewhere), which tells you read this blog post you're reading right now. That makes no sense but WHATEVER. If you want to chuckle, click that link below.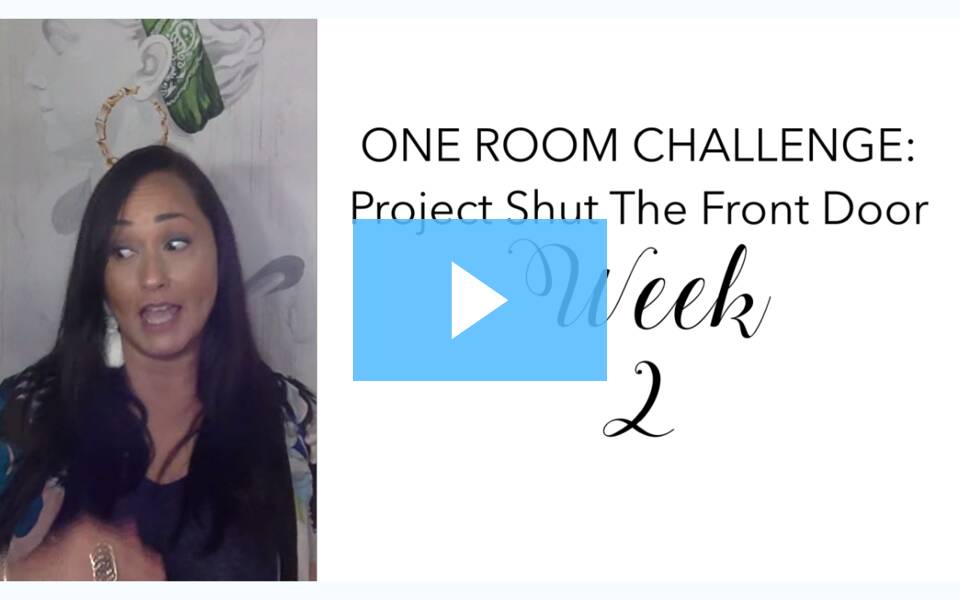 CLICK HERE to see my face tell you all about my ORC: PROJECT SHUT THE FRONT DOOR WEEK 2
I'm experimenting, so bear with me. I know the sound needs adjusting. Well, a lot probably does, but I had fun trying it out. I don't have the skills that Candis and Andy from Home Love Network do, but maybe they'll come by and check out Project Shut The Front Door and make us look better over here.
Oh yeah, don't forget to tell me which wallpaper you think I am going to use in the comments. And follow me over on Instagram and Facebook. Don't make me beg.
WEEK ONE || WEEK TWO || WEEK THREE || WEEK FOUR || WEEK 5 || WEEK 6
ARE YOU NOW BRAINSTORMING?
Are you thinking about adding wallpaper to a room in your house? Here are some terrific options below. Some are temporary wallpapers, which are great for you commitment phobes. I know you're out there. You could also hire me to help you get over your fears.
**You know the drill: If you click through AND make a purchase, I may make a small commission at no extra cost to you. Every little bit helps keep this blog going, so I appreciate it!**