Wilsonart is an industry leader in laminate.
Laminate. Really?
Yes, really. I'm in several design support/mentorship groups and the topic comes up quite a bit. A lot of designers are using laminate flooring these days, and counters and walls are also making huge comebacks in certain areas.
Really.
The laminates of 2018 are not your grandma's laminate.
I was introduced to Wilsonart, one of the BlogtourKBIS 2018 sponsors when I was invited as a Designhound to the ICFF show last year in NYC. I was pleasantly surprised then, but they upped their game this year.
Danny Seo hosted our tour of their KBIS booth.
You can see he's leaning against a laminate counter, but the wall and shelves were also laminate too.
You can see the way they integrate sinks, so no need to have one of those old looking stainless drop-in sinks.
There were some finishes that were very pretty, but being smart is what makes them even better.
Like the Traceless™ surfaces.
A stunning, easy-to-clean, highly durable surface with heat, impact and scratch resistance, and UL GREENGUARD Gold certification for low-chemical emissions, Traceless Laminate is the perfect choice for the most demanding design applications. Wilsonart's Traceless technology is infused into the decorative laminate during the manufacturing process making it part of the product, not just a top coat. Traceless Laminate is easy-to-clean, requiring minimal effort for long-term care and maintenance.
They are innovators in technology with several types of surface, including their HD line. Scratch resistant? Bacteria resistant? Don't believe me? Watch this.
Wilsonart® HD® with Antimicrobial Protection and Enhanced Scratch & Scuff-Resistant AEON™ Technology

Wilsonart® HD® Surfaces combine the most dramatic designs and textures with Antimicrobial Protection and Enhanced Scratch and Scuff-Resistant AEON™ Technology to produce the best laminate countertops and work surfaces. Wilsonart HD Laminates come standard with built in Antimicrobial Protection and our exclusive AEON finish, which creates a laminate countertop that is up to 5X more durable than our standard laminate and up to 3X more wear resistant than the industry standard.
This line also had texture and depth, it's not smooth like traditional laminate, so it feels "real".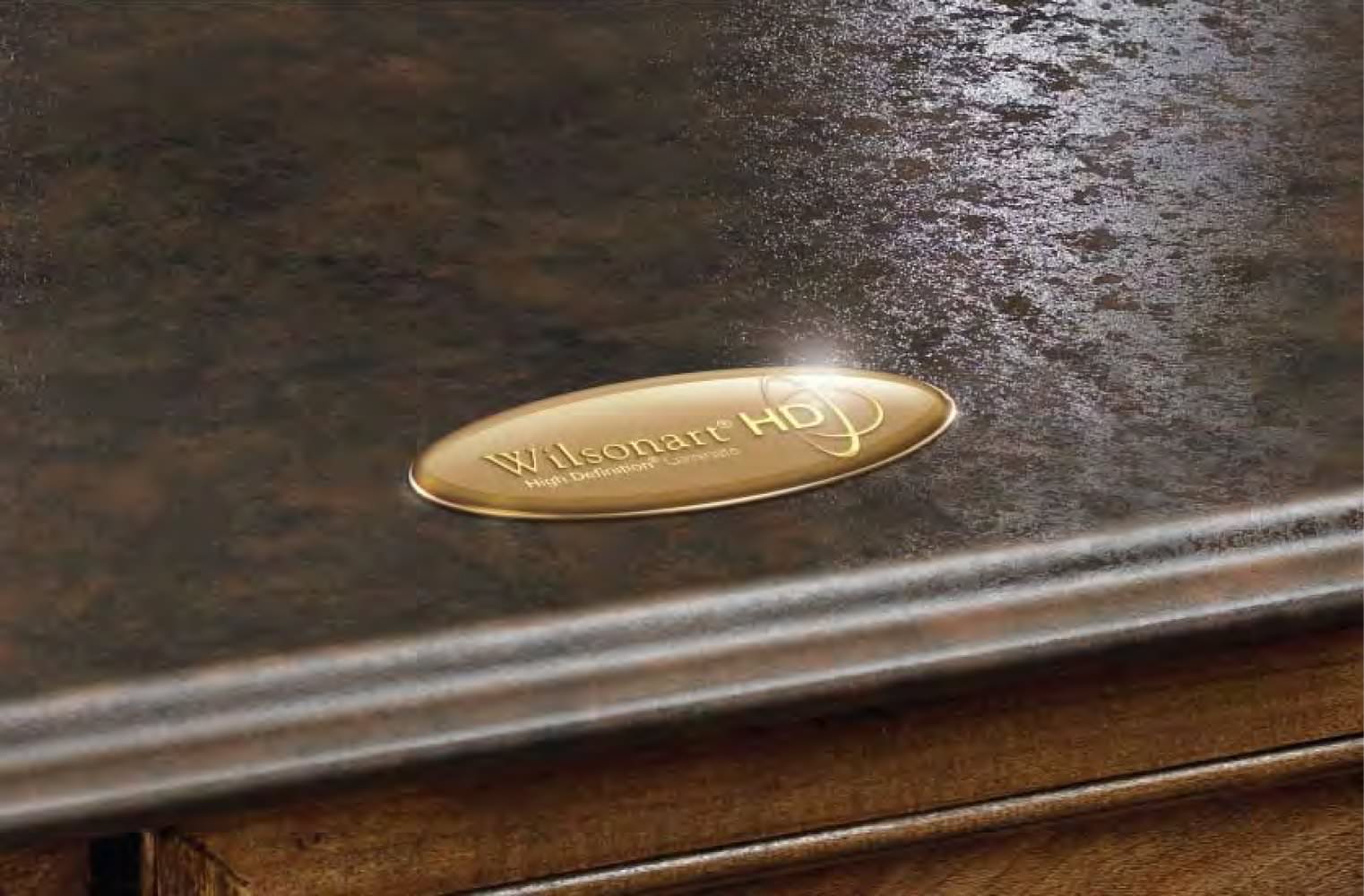 They have so many types for so many applications. Some examples would be the fire-rated, marker board, chalkboard, decorative metals, and a type that you can use over old laminate called Re-Cover. The options are endless, and you'd be surprised and what they can do for you.
New for Wilsonart is their introduction into quartz surfaces. So… SURPRISE! They also have other solid surfaces, but the quartz was what everyone was talking about and they are finally in the game. If you're considering quartz for an upcoming project, you probably should add them to your list to look at.
I really liked this one called Gray Lace. The Silver Smoke was cool too, but I liked the detail in the first one.
It looks way better in person. Here's a close up.

They have a lot of different quartz surfaces to choose from, which was another surprise for me!
Here's a quartz countertop, no big deal. I used a very similar one before. And my new friend Jana sporting her famous pink trench coat. Ok, go back to the countertop. Why does it look so THIN? Is it floating? Is it backlit? WHAT IS GOING ON HERE??
WHOA, wait a minute. They angled the edge under there! And it IS backlit. Jana can't handle it, she's leaving. I'm totally digging the open shelving under there as well. This island was super sharp.
Things are always better in 3s, right? Here's another view.

The black and white dishes they displayed were nice, and fit into so many different kitchens. I had a few people ask about them, so I found something similar that you can shop. #ad
This black counter was done the same way, I don't know why I'm even showing it to you. Well, yes I do. I think it looks pretty cool.
The addition of the oak adds some warmth and dimension.
Wilsonart really does surprise me year after year. I can't wait to see what comes next! They are always working on new styles and finishes because leaders never stop leading.
What are your thoughts on laminate surfaces? Did you like the quartz? Let's discuss!
SaveSaveSaveSaveSaveSaveSaveSaveSaveSave
SaveSaveSaveSave
SaveSave
SaveSave
SaveSave